The Madam Lenormand Fortune Teller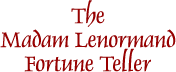 Marie Lenormand was a 19th century, Parisian fortune teller whose powers to tell the future were so profound that she was called the "The Sibyl of the Faubourg Saint-Germain." Madam Lenormand was consulted by thousands of Europe's most influential people. She was regularly visited by Josephine and predicted the rise and fall of Napoleon, as well as Josephine's divorce from Napoleon.
Madame Lenormand was so devoted to her art that she used a custom 36 card deck of her own design. Each card carries more than one meaning. In most classic spreads the meaning of each card in a specific reading is directly related to its proximity to the card that represents the person the reading is for. However, the deck works very well with tarot spreads too.
To use the Madame Lenormand Oracle, select from the options below, and click the "Go to My Cards" button.