Astrology, Tarot, Numerology
Daily Oracles and Astrology Influences
Astrology Compatibility & Romance Report
Explore your relationship or potential relationship with our free Astrology Compatibility and Romance report. This report compares a couple's individual natal horoscopes to evaluate their romantic and platonic compatibility. The report uses many of Astrology's basic elements such as Zodiac signs and aspects to determine the future outlook for a match. Get your free romance assessment.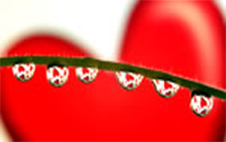 How Great Leaders Inspire Action
Simon Sinek presents a simple but powerful model for how leaders inspire action, starting with a golden circle and the question "Why?" His examples include Apple, Martin Luther King, and the Wright brothers -- and as a counterpoint Tivo, which (until a recent court victory that tripled its stock price) appeared to be struggling.