Aquarius Horoscope Forecast 2012
Written by: David Zacik
Published on: December 25, 2011
Category: Astrology
Aquarius 2012 Career and Work Horoscope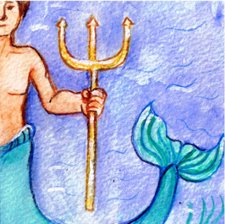 Because Aquarians are multi-talented, Aquarius horoscope 2012 brings a year which they will have the opportunity to present and perform these capabilities in their work areas. With these talents, along with diligence and resolve, they may find themselves acquiring the promotion that they have been working to achieve and that they have earned. But, even with the Aquarians natural talent and abilities they must be caution in the work environment as conflict and tension may arise during the months of April through September. These disagreements will be easily remedied this horoscope year , as long as you make use of your great social and communication skills, to avoid and disperse such negative eventualities. Always keep your cool and don't allow your temper to get the better of you and all will be well.
For Aquarius horoscope 2012 there may also be favorable conditions in the picture in which a positive move may be involved. Work may require you to move from your present residential address to a new home. Aquarius 2012 horoscope may also present the opportunity to work overseas. Prior to moving be sure that all areas are fully taken care of to avoid any complications that might occur while relocating to another area. Another great prospect for Aquarius 2012 horoscope is that you may be going on a work-related trip or a personal travel sometime during the last six months of 2012. So be prepared to take these opportunities when and as they occur throughout the incoming year.
Aquarius 2012 Love, Family and Social life Horoscope
In terms of Aquarians' personal affairs and connections, they should take time to be with their loved ones and special someone, specifically, during the last half portion of Aquarius horoscope 2012. Married couples should spend more time with their spouses and children to renew their commitments. For those in a relationship, they should likewise exert more effort to communicate with their special someone. Unattached Aquarians will have their chance to meet and form a special relationship with another person this year. All these happenings are likely to occur throughout the second half of the incoming year. Added to these, they could find themselves more perceptive and logical than usual, particularly, during the month of September.
Thus, all in all , the upcoming year of horoscopes 2012 will be a big break for Aquarians. They should look forward in having a peaceful and reasonably pleasing year ahead of them without any serious matters and big deals that will break the satisfying and enjoyable 12 months that will be coming which they will experience in the horoscope year.
Aquarius 2012 Finance and Money Horoscope
Aquarius horoscope 2012 may find Aquarians experiencing added monetary benefits that might come from business ventures or a result of a salary raise or bonus which can be secured for any obligations that the Aquarius may have at present or in the future. This upsurge in earnings will happen at the onset of the horoscope year 2012. You should use these gains during the needy months that will occur from the months of July through December.
Aquarius 2012 Health Horoscope
For most of the months of horoscope year 2012, Aquarius-born persons will not have to worry much about their physical health. This is simply, because the incoming year will be uneventful regarding health issues. Only during the final quarter of 2012 will the Aquarius have to be more cautious and vigilant regarding their wellness this is because, during the course of these months they might experience illnesses, particularly, those related to the stomach or digestion. Take precaution to ensure that your health is sound during the last part of the incoming year by doing relaxing activities, as well as, taking a break from your usual tasks and work in order for your body and mind to have their needed boost.
More detailed horoscope:Aquarius Horoscope 2012