Chinese Astrology Articles
October 2, 2011 | Peter Allsop
Yang Water Dragon 2012-13 - Fortunes of the 12-Animal Signs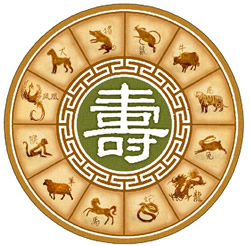 Dragon Year Details!
My greatly esteemed teacher, Grandmaster Yap Leong ('Leong' is Cantonese for 'Lung'/Dragon) says China, the Great Dragon, is always active and full of surprises in Dragon Years. So watch out for these, they are usually pleasant ones! The maxim runs:'The Dragon (China) changes shape quickly, taking those unprepared by surprise!' Anyway, the Chinese will be here in the U.K. for the Olympics.
Thus, Dragon Years are usually volatile visitors! Personally, it may seem like your good and bad traits are magnified. Issues may swing to-and-fro and so caution is required to avoid being carried-away by events' However, the Dragon, associated with 'Spirit', is an auspicious Year for those Martial Artists and others 'attuned' to its energies. Idealism and flexibility may prove useful qualities over the period.
Yang Water (the Year Element) symbolises Wealth (consider Current Accounts, cash-flow,'floatation', liquidity) and also Communication (word-flow, stream of consciousness, rivers of words).'Big' Water representatives include: Oceans, Seas; the Yangtze River (aka the 'Chang Jiang' or 'Long River') the world's biggest, and Multi-national Communications Businesses,. These could all be classified under 'Big Water', so watch out for developments in related fields(1).
Fortunes of the 12-Animals for Yang Water Dragon Year 2012-13