Yang Water Dragon 2012-13 - Fortunes of the 12-Animal Signs
Written by: Peter Allsop
Published on: October 2, 2011
Category: Chinese Astrology
Yang Water Dragon 2012-13 - Fortunes of the 12-Animal Signs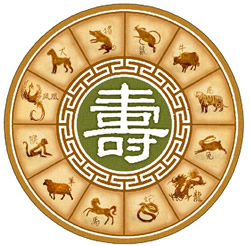 Dragon Year Details!
My greatly esteemed teacher, Grandmaster Yap Leong ('Leong' is Cantonese for 'Lung'/Dragon) says China, the Great Dragon, is always active and full of surprises in Dragon Years. So watch out for these, they are usually pleasant ones! The maxim runs:'The Dragon (China) changes shape quickly, taking those unprepared by surprise!' Anyway, the Chinese will be here in the U.K. for the Olympics.
Thus, Dragon Years are usually volatile visitors! Personally, it may seem like your good and bad traits are magnified. Issues may swing to-and-fro and so caution is required to avoid being carried-away by events' However, the Dragon, associated with 'Spirit', is an auspicious Year for those Martial Artists and others 'attuned' to its energies. Idealism and flexibility may prove useful qualities over the period.
Yang Water (the Year Element) symbolises Wealth (consider Current Accounts, cash-flow,'floatation', liquidity) and also Communication (word-flow, stream of consciousness, rivers of words).'Big' Water representatives include: Oceans, Seas; the Yangtze River (aka the 'Chang Jiang' or 'Long River') the world's biggest, and Multi-national Communications Businesses,. These could all be classified under 'Big Water', so watch out for developments in related fields(1).
Fortunes of the 12-Animals for Yang Water Dragon Year 2012-13
Dragon in Dragon Year
This should be a good year overall, especially if arguments are avoided. Control your money-making urges and good prospects should manifest on the career and financial fronts.
Spring and Autumn are your best times this year-your summer may prove disappointing. December requires extra vigilance regarding your home and possessions.
Rat in Dragon Year
There are excellent career and financial prospects for Rats this year. Rats born in 1960 should prove particularly fortunate during this period in most of their endeavours.
Those Rats in employment may enjoy a change of scene. There is a strong possibility of a meaningful relationship developing around November/December time.
Ox in The Dragon Year
Ox feet should remain firmly planted on the ground this year and a degree of caution exercised throughout. Swinging this-way- and-that and with potential ups-and-downs also, Ox finances need careful managing, and all contracts should be meticulously scrutinised before signing.
Caution is also the keyword in relationship terms this year for both married and single Oxen.
Tiger in the Dragon Year
Avoid lending-out money or underwriting the financial transactions of others and this could be a good year, financially and overall.
If arguments and disputes arise from romantic entanglements, Tigers may need to demonstrate self-control this year. Overwork (1960 Tigers especially) and domestic accidents are ongoing concerns throughout the year.
Rabbit in Dragon Year
Rabbits can expect good news from within the family. Rising income and expenditure accompany each other-saving is a good idea this year.
Mood-swings may occur from time-to-time, positive thinking may moderate negative influences. Spring and Summer are your best times of Year, but watch out for unnecessary expenditure in Winter.
Snake in Dragon Year
You may find obstacles in your path this year that thwart your chances of success and hold you back in certain fields, particularly on the work front.
In terms of love and romance, however, this could prove a fortunate year indeed. Sickness or injury could occur in Spring or early Summer.
Horse in the Dragon Year
To prevent this year being a disappointing one, be assertive. Avoid excess, act decisively but also rationally as the occasion demands.
Spring and Summer are your best times this year-make the most of them and prepare for the Autumn and Winter when your luck may not be as good.
Goat/Sheep in Dragon Year
Be patient as conflicts and reverses may thwart this year's plans-legal and occupational set-backs, especially. Control your temper, be diplomatic and think before speaking. As Goats' Financial prospects are poor this year, avoid gambling and speculation. and practice relaxation.
This is not a good year for Goat romance, rather you should practice positive-thinking and be creative.
Monkey in Dragon Year
Certain difficulties will arise for the 'Great Sage'(1) this year but Monkey 'Magic' i.e. 'Luck' should be enough to cope. Avoid greed and speculation (especially in Summer and Autumn) and financial mishaps can be prevented.
Romance, for Monkey Males this year is a non-starter conversely, for Female Monkeys it's an auspicious and promising time indeed.
Rooster/Chicken in Dragon Year
This is a fortunate year for Roosters/Chickens on the health, finance and occupational fronts. Take especial care in decision-making in Autumn and Winter and you may avoid losing money.
A year of difficulties, where romance is concerned, don't go overboard in relationships as these will typically be short-term.
Dog in Dragon Year
Make no bones about it, there may be hard times ahead towards the end of the year. Use Spring and Summer's surplus to even things out, in anticipation. Poor financial prospects towards the end of the year-avoid gambling and speculation throughout.
Tolerance and patience will be necessary for Dogs this Year on the romance and relationships front.
Pig in Dragon Year
Promising 'Piggy Bank' period! Pig ventures should prosper in the forthcoming year, although those of a speculative nature should be avoided.
Events should progress smoothly for Pigs this year, particularly where romance and relationships are indicated.
Feng Shui Consultant Peter Allsop M.Ed. also publishes 'Red Dragon Martial Arts Ezine'. Longevity Training, Iron Shirt, 5 Elements Qigong, Daoism, Chinese metaphysics and Astrology feature among his interests alongside gem and crystal Feng Shui. Explore the free resources at http://www.sheffieldkungfu.com or http://www.shaolinway.com
Senior Student of GrandmasterYap Leong, Peter also teaches Shaolin Kung Fu and Qigong in Yorkshire and Derbyshire U. K. as Shaolin Fists International Area Instructor for the region.
Follow us on Facebook at 'Sheffield Kung Fu'.