UFOs Articles
August 1, 2011 | Bill Knell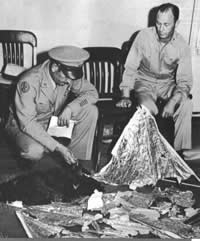 It's been over sixty years since the crash of an alleged Alien Spacecraft near Roswell, NM. Despite a multitude of credible civilian and military witnesses who claim the object and its occupants were from another world, we still lack absolute proof. As a result, researchers trying to solve this puzzle constantly hope for two things: Actual physical evidence and reliable witnesses.
Because the Roswell Crash took place in 1947, the likelihood of turning up any new first hand witnesses to the crash, military investigation or cover-up fades with each year that passes. The same may be said of physical evidence. Even if somebody found a shoe box full of metal or other strange material from the crash stashed in their attic, they might not even know what it was. That leaves the possibility of second or third hand witnesses.
While it's easy to dismiss witnesses who didn't actually experience the crash or aftermath, they can often provide serious researchers with some tidbit of information that can lead to more later. Recently, I was contacted by a man living in California who I'll call Al. After listening to the late Colonel Philip Corso (author of 'The Day after Roswell') speak about events surrounding the Roswell UFO Crash on a late night radio show, Al began to give some thought to something that had occurred earlier in his life.