Astrology Forecast for August 2012 - General Tendencies for All Sun Signs
Written by: Janet (Sparrow) Moon
Published on: July 30, 2012
Category: Astrology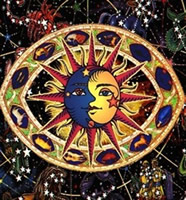 August should be a big improvement over June and July. There could be a few days when things don't go our way, but for the most part life should be back to normal. Uranus and Pluto will still be battling in the background, and this may bring a few unexpected tragedies that could upset some of our communities. But, Mars is going to be in a very good mood, bringing us stamina and creative energy, and we also have a blue moon. (A blue moon is the second full moon in the same month.) Watch out, things may be so good this month, that we don't get anything accomplished.
August will begin with the Full Moon in Aquarius, and the Sun will be dancing with Jupiter. We could have some big ideas, and some of those ideas will be unique (maybe even ridiculous) the first couple days of August. Things could get rather creative for the weekend of August 4th and 5th under the influence of the Pisces Moon. We may get a burst of energy Sunday evening (US) as the Moon crosses into Aries.
The week of August 6th may begin routine, but schedules could get upset as early as Tuesday, August 7th, with Mercury entering his retrograde station (the point where Mercury switches from retrograde to direct). Mercury governs transportation, communication, and neighbors, so we may encounter some issues in those areas from Tuesday through Thursday, August 9th. But, we may find that these little inconveniences don't bother us much, because Venus and Neptune will be keeping our thoughts on a higher plane.
The weekend of August 10th will be under the game loving influence of the Gemini Moon. Its going to be a great weekend for competition, conversations, short trips, and two of everything. But, we may be feeling a bit more moody on Monday, August 13th, as the Moon enters emotional Cancer. Our energy should be stronger than usual most of this week, with Mars and Saturn joining forces. But, Venus will be crossing the dreaded Uranus-Pluto Square, and this could bring major upsets with loved ones and our finances on Tuesday, Wednesday, and Thursday, August 14th through the 16th. By the New Moon on Friday, August 17th, we will be ready to roll up our sleeves and cleanup any "fallout" from the previous days' disaster.
Excitement could be the tone for the weekend of August 17th. Mercury and Uranus will energize social events, and possibly bring an unexpected call from an old (or new) friend. The Sun and Mars will also be sending nervous energy our way, and we may end up doing something we will regret. Think carefully before you act. The Sun-Mars influence will continue through Monday, August 20th.
The Week of August 20th may begin a bit out of balance under the Libra Moon, but things should level out by Tuesday, and new ideas may start popping up in our minds through Wednesday evening (US) while Mercury shakes hands with Jupiter. The Sun will enter Virgo on Wednesday, August 22nd, and Mars will enter Scorpio on Thursday. This may turn our thoughts and our passions to the work we have ahead of us. Most of us will intuitively know what to do, but some will get a bit confused on Thursday, August 23rd, with the Sun and Neptune deluding one another.
We may be ready to tackle some creative projects by the weekend of August 24th with Mars and Neptune singing in harmony. Our energy will be strong and focused through Sunday, August 26th. And, the last week of August could turn out to be very productive. The Sun and Pluto will be encouraging us to get rid of clutter, and Mercury and Saturn will keep our perspectives sound, through Thursday, August 30th. We will have a "blue" Full Moon on Friday, the last day of August, in the magical, mystical sign of Pisces. Some will really be ready to "howl," and some will get stupid.
Things will not be so easy come September. There could be some stellar gears in a jam. Check back next month to find out more.
Janet (Sparrow) Moon is a professional psychic and astrologer. You can visit her web site for more articles about upcoming events in astrology, and to read her daily astrology general tendencies forecast. (This article can be reprinted freely online, as long as the entire article and this bio are included.) Visit http://www.sparrowmoon.com/