Astrology Forecast for December 2013 - General Tendencies for All Sun Signs
Written by: Janet (Sparrow) Moon
Published on: December 2, 2013
Category: Astrology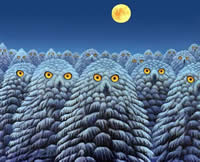 December is going to begin with a very majestic tone. The first twelve days of December could bring inspiration and strengthen our faith. But, around the first day of Winter, we may begin feeling a loss of control, and by the end of December we could be dealing with accidents, and fears and worries could be creeping into our thoughts.
December begins with the Sagittarius New Moon on Monday, December 2nd. There could be some pleasant surprises with Uranus beaming positive rays towards the Sun and the Moon. Also, people will be at ease and ready to laugh as the week begins, with Mercury dancing with Mars. It will be a great week for beginning new projects, but a fight between Mercury and Neptune may cause us to begin to lose our ambition by Thursday, December 5th, the last day of Hanukkah.
The weekend of December 6th may begin a little sluggish, because of the Mercury-Neptune conflict. But, Mercury is a fast planet, so life will be back to normal by Saturday, December 7th. The Moon will be void of course the whole day on Saturday, so we may prefer to spend some time working alone. The Moon will enter Pisces on Sunday, December 8th, and we will be ready to embrace the spiritual meaning of the holidays.
Egos may be inflating as the week of December 9th begins, and life may be getting rather exciting, especially on Tuesday, December 10th. There could be a few disagreements and even gambling losses to deal with through Tuesday evening. But, by Wednesday morning we should find that our inspiration and our motivation has returned. We may even find ourselves inspired to do great things through Thursday, December 12th.
Our energy will probably drop like a lead weight on Friday, December 13 (OMG - Friday the 13th!). Mars and Neptune will be sucking away at our incentives and our enthusiasm, and the Taurus Moon will be all to happy to just sit down for a while. Its okay to be a "couch potato" every now and then, and this day is going to be ideal. Life will become closer to normal by Saturday, December 14th, but we may not be in any hurry. Our energy should return by Sunday, December 15th under the Gemini Moon, so save chores and errands for then.
Accidents are likely as the week of December 16th begins with Uranus approaching direct station. Its not a good time to takeoff on a whim, because you may end up going in the wrong direction. Stick to the plan! The Moon will be Full in the Sign of Gemini during the wee hours of the morning on Tuesday, December 17th, so it is very likely that people will go mad, and zombies will rise up in the streets over Monday and Tuesday, December 16th and 17th. (Well - things will get lively to say the least.) But, life should return to reality by Wednesday, and the Moon will be in Cancer rest of the week encouraging us to acknowledge our feelings (and maybe do a little extra cuddling).
The Moon will enter fun loving Leo, Venus will turn retrograde, and the Sun will enter Capricorn heralding the beginning of Winter over the weekend of December 20th. We will be in the mood for entertainment and celebrations, but there could be some changes to deal with. The holiday spirit will tickle many of us on Sunday, December 22nd, and we will have lots of energy for our Christmas preparations. (Some of us may be so energized that we work into Monday morning.)
The Moon will be in detail oriented Virgo, and the Sun will be kissing Neptune, as the week of December 23rd begins. We will have control of our outer reality, and we will be very close to our inner knowing. But, Mars and Uranus will also be building tension through Wednesday, Christmas Day. Accidents will be likely as the week continues, and some will lose control of their tempers. The Moon will enter Libra on Christmas Day, but we may not find our balance until Thursday, December 26th, the first day of Kwanzaa.
We may find a renewed passion flowing through our souls as the weekend of December 27th begins, with the Moon skipping happily through Scorpio. We could uncover some excellent after Christmas bargains on Friday, December 27th. Our sense for finding good deals will continue on Saturday, December 28th, but we may also notice a tension beginning to build. We may make mistakes or become overly critical as the weekend builds with Mercury moving behind the Sun to join a battle with Uranus. Mars will also be angry with Pluto, and that could motivate us to do something stupid. The Moon will enter optimistic Sagittarius on Sunday, December 29th, and the Sun-Mercury-Uranus fight and the Mars-Pluto argument will be building to their climaxes. Its not going to be a good day for changes, conversations, or travel, but it will be a good day to practice walking on egg shells. Be as diplomatic as you can, and avoid arguments at all costs.
The week of December 30th will begin with Mercury crossing Pluto and joining the battle with Mars. Some will become overly forceful, and other will be overly touchy as we approach the new year. There could be arguments and fights through New Year's Day. If you are planning on celebrating the New Year, be sure you will be around your "happy" friends, and use extra caution driving.
Venus will be in retrograde all of January, and Jupiter will have two big planetary battles to deal with. We may feel like our luck has run out as the new year begins. Check back next month to find out more.
Janet (Sparrow) Moon is a professional psychic and astrologer. You can visit her web site for more articles about upcoming events in astrology, and to read her daily astrology general tendencies forecast. (This article can be reprinted freely online, as long as the entire article and this bio are included.) http://www.sparrowmoon.com/