Astrology Forecast for January 2014 - General Tendencies for All Sun Signs
Written by: Janet (Sparrow) Moon
Published on: December 30, 2013
Category: Astrology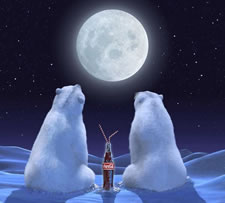 We will have a little of everything in January 2014. The month may begin with extra challenges in front of us, because eight of the ten major planets will be lining up for battle in cardinal signs (Aries, Cancer, Libra, Capricorn). There could also be big mistakes and failures as January ends with Jupiter tugging on Pluto. However, we could find extra comfort at home mid month, under the Cancer full moon, but people could also get a bit touchy with Venus (still in retrograde) squaring off with Mars around the same time. We also have two New Moons this month with the second one beginning the Chinese New Year (the year of the horse), and Venus will turn direct as the month ends. All in all, January may bring a few challenges, but there will also be time to relax and be ourselves.
The Sun and the Moon will be conjunct (the New Moon in Capricorn) on New Year's Day, and they will be in front of Pluto and squaring off with Mars - not good. Many of us will find ourselves dealing with extra problems. Some will be agitated and aggressive. We may also find ourselves going too fast and making mistakes during the first two days of 2014. Be sure to think twice before acting.
The Sun and Mercury will move to begin a battle with Jupiter over the weekend of January 3rd. Some egos will inflate and demand the center of attention, and we may find that our time gets wasted. Also think twice before spending. You may need that money later this month.
I'd like to say that things will improve as the week of January 6th begins, but we will still have just a few more days of tension with Mars moving to square Jupiter. Venus and Mercury will also be lining up to shake hands with Saturn, so if we can stay focused and stay busy, we may be able to endure the pressure. We may feel like we need to quit our jobs and run away, but if we can wait until Thursday, January 9th, to make any big decisions, our outlooks and luck should be much better.
Our optimism and our charm will be energized over the weekend of January 10th with Venus crossing in front of the Sun while winking at Saturn. Our efforts will be patient and steady, and success will be likely, especially in career matters.
The Moon will enter her home sign of Cancer on Monday morning, January 13th, and many will be in the mood to nurture others. In fact, the Cancer Moon will be in a fairly good mood for the next few days, as she approaches her monthly opposition with the Sun (the Full Moon), on Wednesday night, January 15th. But, Venus will be angry with Mars on Wednesday and Thursday, December 15th and 16th, so some of us could get very emotional, and self-esteems could be deflated then. But, there is also a potential for extra support if we can embrace the logical side of our minds with Mercury saying a quick hello to Uranus on Thursday.
We will be ready to play under the Leo Moon as the weekend begins on January 17th. Friday could be a lively day, but we may want to take a nap on Saturday, January 18th with the Moon void of course most of the day. We will get our second wind on Saturday evening as the Moon enters detail oriented, Virgo, and we may be ready to do some extra cleaning and scrubbing on Sunday, January 19th. The Sun will also enter Aquarius on Sunday, and Mercury will be out of sorts with Jupiter. It will be a great day for organizing and detailing, but we may want to put off any major decisions until Monday.
There will be no "blue" Monday on Martin Luther King Jr. Day, January 20th. Its going to be a great day to do whatever we want, especially those of us who get the holiday off with pay. In fact, the rest of the week should be rather pleasant with the Moon entering balanced Libra on Tuesday, January 21st, and then entering passionate and sexy Scorpio on Thursday afternoon, January 23rd. There could be minor upsets Wednesday morning, January 22nd, as the Moon hits a few bumps, but all will be forgotten by evening.
The weekend of January 24th also looks sweet. A few may get rather stubborn Friday night as Mercury argues with Saturn. Problems with authority figures could also pop up, but things will calm down by Saturday morning, January 25th, with the Moon turning void of course. All will be transformed by Saturday night when the Moon enters noble Sagittarius. The Sagittarius Moon loves to think big, but we also need to be cautious of stupid, grandiose schemes throughout the weekend, with Jupiter and Pluto beginning to battle.
The Moon will still be traveling through optimistic Sagittarius as the week of January 27th begins. Our enthusiasm will be high, but our judgments could be off, and our judgments could continue to be missing through the end of the week, because of a Jupiter-Pluto opposition. Jupiter and Pluto are slow, outer planets, and their aspects last for many days. Failure could be a very strong possibility as January draws to a conclusion, so think twice before acting and postpone any major decisions until February 1st, if you can. There could be a few brilliant ideas popping into our heads on Tuesday, January 28th, with the Sun and Uranus playing games, so be sure to write them down. And, we will encounter our second New Moon and the launch of the Chinese New Year on Thursday, January 30th. The New Moon will be in Aquarius encouraging us to take a strong look outside of the box, but again, take time to think before acting on anything. The month will wind up with Jupiter and Pluto at the peak of their battle and Venus turning direct. We will probably be ready for some rest and relaxation as February begins.
That R and R will be a good possibility early in February, and we should probably take advantage of that time. Because, Mercury will be turning retrograde on February 6th causing travel upsets and delays. Valentine's Day looks almost heavenly under the Leo Full Moon, but Jupiter will pick a fight with Uranus (the electric planet) as February ends. Check back next month to find out more.
Janet (Sparrow) Moon is a professional psychic and astrologer. You can visit her web site for more articles about upcoming events in astrology, and to read her daily astrology general tendencies forecast. (This article can be reprinted freely online, as long as the entire article and this bio are included.) http://www.sparrowmoon.com/