Astrology Forecast for July 2013 - General Tendencies for All Sun Signs
Written by: Janet (Sparrow) Moon
Published on: June 30, 2013
Category: Astrology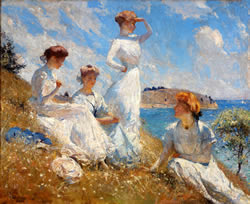 Some amazing things have been happening in June, and they are going to continue, perhaps even get better, in July. Two slow, outer planets, Saturn and Neptune have been at a very tight, very positive angle since May 11th. Some of the inner, quicker planets have been complimenting this aspect in June, generating all the great stuff we've enjoyed lately. In July, the gas giant, Jupiter, will follow the inner planets complimenting Saturn and Neptune creating one of the most grand aspects we've seen in the past decade. Its going to be a great month for accomplishments, rewards, and finding hidden resources, so take advantage of the good stars while they last.
Even though I'm promising happy days ahead, July 1st, the first Monday of the month, may be an exception to the rule. People could be a bit aggressive, and we may make some wrong decisions or say hurtful things on this day. By Tuesday, July 2nd, most of the upsets will be in the past, but there could a few more mistakes through Thursday, July 4th, Independence Day (US). Try to pace yourself and stay focused, and you may find that more pleasant opportunities drop into your lap.
If you have an ex "haunting" you, you will probably be ready to let go as the weekend of July 5th begins. Beauty and pleasure are going to be important for many over this holiday weekend, and we may decide to go visit some charming and enjoyable places. Back yard barbecues, family reunions, or even a little yard work will go very well on Sunday, July 7th, with four major planets in Cancer.
Saturn will be turning direct, and the Moon and Mercury will be in front of the Sun (the New Moon) as we begin the week of July 8th. We may be ready for some new beginnings, especially in the areas of home, family, and career. There may also be some extra work we need to get done or conflicts with authority figures. Ramadan also begins on Monday evening, and those following the holy days to come could receive some very inspirational and divine messages. Jupiter will begin to take his place in the grand alignment on Tuesday, July 9th, and the rest of the week will be whatever we want it to be. Work and play will go well, so make the most of it.
We may be ready to work hard as the weekend of July 12th begins with the Moon in Virgo and Mars entering Cancer. A little home redecorating could turn into a major remodeling project. With so many planets in Cancer and a grand trine in water signs, we may find ourselves pulled to water recreation. It will also be a great weekend for a trip to the beach, a little canoeing, a picnic by the creek, or even hanging out by the pool.
The Moon will be at its 2nd quarter phase in Libra as the week of July 15th begins. The quarter moon is known to be a stable time, and Libra will add diplomacy and luxury to the mood. Also Mars, Jupiter, Saturn, and Neptune will come to the climax of their grand trines this week. This week will begin stable and balanced, and then it will get even better! Uranus will be turning retrograde on Wednesday, so there could be a few accidents or unexpected emergencies to deal with around that time. But, with the outer planetary grand trine sending so many blessings, it is likely that we will deal with any crisis like a super hero.
The grand trine will still be very active as the weekend of July 19th begins with Mars adding his harmonic frequency. The Moon will be in Sagittarius increasing our optimism and sense of adventure. Many of us will want to go places and do things this weekend, but with Mercury turning direct on Saturday, July 20th, delays and mix-ups are possible. If you hit any typical Mercury problems this weekend, like detours, misunderstandings, or internet/computer problems, just "hit them head on." It is likely that we will conquer any issues quickly and completely. Mars and Jupiter will be conjunct late Sunday night, and the Aquarius Full Moon will occur Monday afternoon (eastern time). With this kind of energy pulling us, our weekend could go differently than we expect. Keep the camera handy. It is also likely there will be lots to tell our friends on Facebook.
The Sun will enter Leo, the Moon will enter Aquarius, and they will come to an opposition (the Full Moon) as the week of July 22nd begins. Mars and Jupiter will also be side by side (conjunct) in the predawn sky on Monday morning. Many of us will sense that its time for a change. Since the planets are constantly moving, they will often move from a positive aspect to a negative one. And, this week will be a week of transition. Our energy and our luck will be slowing down, and we may be ready to take a look at ourselves, our accomplishments, and our spiritual connections.
Keep expectations and commitments to a minimum over the weekend of July 26th. The Moon will be entering Aries on Friday evening (eastern time), and we may really be in the mood to make some changes or start something new. Don't do it! It is likely that projects will fail or fizzle out, and our judgments could be way off. Stick to your routine, especially on Sunday, July 28th, with the Moon being void of course.
People could be high-strung, and accidents will be likely as the week of July 29th begins. We could be feeling restless, and tempers could be short. Use extra caution driving through Thursday, August 1st, and try to stay focused. Our thoughts and projects may become scattered as July ends.
All of our great stars in July will begin shifting even more to the negative in August. Check back next month to find out more.
Janet (Sparrow) Moon is a professional psychic and astrologer. You can visit her web site for more articles about upcoming events in astrology, and to read her daily astrology general tendencies forecast. (This article can be reprinted freely online, as long as the entire article and this bio are included.) http://www.sparrowmoon.com/