Astrology Forecast for June 2013 - General Tendencies for All Sun Signs
Written by: Janet (Sparrow) Moon
Published on: June 1, 2013
Category: Astrology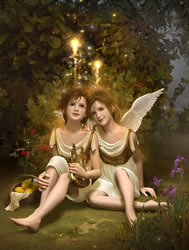 For all the strife, pain, losses, and disturbances we endured in April, the universe will be sending us an equal amount of blessings and opportunities in May. That's one thing about the stars. They're always moving. If they're bad right now, in time they will move to a good position. We have three outer planets coming to a grand trine (the most positive aspect in astrology) over then next two months, and we should notice the positive energy as soon as June begins. Mercury will be turning retrograde later this month, but we may not care!
June begins on a Saturday, and this could be an excellent weekend for new projects, creative ideas, and possibly a little romance. The realistic and the idealistic will balance on Sunday and Monday, June 2nd and 3rd, as Mercury completes a triangle with Saturn and Neptune. It will be an excellent time to make plans and decisions about our lives. Our motivation could slow down, and our energy could begin dropping by midweek. Saturn will be draining Mars' energy for a few days. If you can, take a few days off from work from midweek through Monday, June 10th. You may get to experience the most pleasant vacation you've had in a long time. If you can't, try to keep your schedule light and postpone deadlines. It will be a time for rest and relaxation, and it is likely projects will not move forward.
The weekend of June 7th begins with a harmonic chime and a lower discordance rumbling beneath it. Our creative energy will be strong and realistic on Friday, but our minds could be impulsive and outspoken. And, our bodies could be lazy... And, that's just Friday. The New Moon will be in Gemini early Saturday morning, stimulating our minds, but Mercury (ruler of Gemini) will also be fighting with Uranus. This may increase our worry and give us a bitter outlook. By Sunday afternoon, June 9th, the Moon will enter Cancer, and the little planetary squabbles will settle. By then, we may be ready for a little comfort at home. A special meal would be a great way to wind up the weekend.
Monday, June 10th, could be an emotional day, and there could be some excitement in the air. There are also hidden opportunities that will be surfacing as this week begins. Life could be very stimulating all the way through Thursday, June 13th, especially in areas of romance and finance.
A subtle feeling of unease could begin creeping up on Thursday, June 13th, but it will become stronger as the weekend begins on Friday, June 14th. Try to stay busy and remember the house, car, office, etc. is not haunted. The more we can keep our minds occupied, the less this feeling will influence us. All anxiety should be lifted by Father's Day, Sunday June 16th, and celebrations should go as planned.
The week of June 17th will begin with Mars and Uranus shaking hands. Almost anything we attempt will be successful. We will be ready to get out of any ruts we may be in, and we will definitely be ready to do a little thinking outside of the box. It should be a great week for conversations, and artistic inspiration. Our luck should also be good, so don't be afraid to take a chance.
The Sun will enter Cancer, and thus Summer will begin, as the weekend begins on June 21st. The Moon will be in Sagittarius approaching full on Friday and Saturday, June 21st and 22nd. Its going to be a time for fun, and play, and getting outdoors. The Full Moon will occur early Sunday morning in the sign of Capricorn. Positive energy from Saturn and Neptune will focus into this Full Moon, and we may fall in love, accomplish a major achievement, create something like we've never created before, or maybe just get lucky. Its going to be an excellent weekend for doing just about anything we want.
Friendship, romance, creativity, spiritual connections, wisdom, and stamina will all be the energy of the week of June 24th. We will also find it easy to deal with authority figures, and our decisions will be reliable and practical. Mercury Retrograde will begin on Wednesday, June 26th, and we may not even notice. We could hit a few of the typical Mercury retrograde problems, like internet/computer problems, travel delays, and misunderstandings, but we should handle them with ease.
We may be feeling invincible as the weekend of June 28th begins. Our spiritual and creative energies will be stimulated, but things could begin to change on Saturday, June 29th after the Moon enters "me first" Aries. People could get a little feisty and may make some stupid decisions. That aggression will continue as June comes to a close on Sunday, June 30th. Be sure to ask yourself, "What difference will it make in the next one hundred years?" before choosing to act.
The Jupiter-Saturn-Neptune grand trine will continue to bless us throughout most of July. Things could start getting bumpy again after the Sun enters Leo. Check back next month to find out more.
Janet (Sparrow) Moon is a professional psychic and astrologer. You can visit her web site for more articles about upcoming events in astrology, and to read her daily astrology general tendencies forecast. (This article can be reprinted freely online, as long as the entire article and this bio are included.) http://www.sparrowmoon.com/