Astrology Forecast for May 2013 - General Tendencies for All Sun Signs
Written by: Janet (Sparrow) Moon
Published on: April 30, 2013
Category: Astrology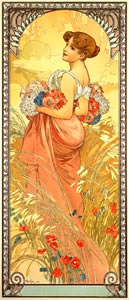 May will have typical up and down days, but it will also include two eclipses and a climatic battle between the slow and powerful outer planets, Uranus and Pluto. Unexpected problems, and possibly even tragedies, could arise personally and globally. The whole month won't be bad, but it is likely there will be a few "crappy" days. Most will be over after Memorial day, and we can look forward to a very pleasant ending to this month of chaos.
May should begin on a positive note, with the Sun and Pluto encouraging us to make a few changes in our routines. The weekend of May 3rd could also be very pleasant. We may be in the mood to get organized and clear away clutter with Mars and Pluto out to transform our environments. Mercury and Saturn will be at an opposition, and this could bring confusion with legal contracts. Save any important decisions until Monday.
We should find it easy to communicate and easy to listen as the week of May 6th begins. Mercury will be joining Mars' melody with Pluto. It will be an excellent time for new ideas and to gain support for an idea. But, as the week progresses, we will be approaching a New Moon Solar eclipse on Thursday in Taurus. We may find that many become resistant to changes, and the potential for theft could increase. Possessiveness, jealousy, and greedy behavior could be all around us.
Our attitudes should improve by the weekend of May 10th. The Moon will enter Gemini on Friday, and Mercury will align with the Sun on Saturday. Its going to be a great weekend for short trips, and many of us will want to communicate. Venus and Neptune will be approaching a square for Mother's Day, and this could hit our self-esteems. Take extra time to compliment Mom.
People could be moody as the week of May 13th begins. The Moon will be in emotional Cancer, and Venus and Neptune will be at the peak of their conflict. We could be feeling very insecure and unsure of ourselves on Monday, and our romantic moral values may be compromised on Tuesday, May 14th. Our attitudes will begin to improve on Wednesday, May 15th, but trouble could start stirring, even before the weekend begins.
Many people will be overindulging in their addictions as the weekend of May 17th begins, and there is also a potential that relationships could end. Fanatics could emerge throughout the weekend, and upsets and disturbances are likely with Uranus and Pluto approaching the climax of their battle. We may find ourselves criticizing too much (especially in our thoughts), and its likely someone could try to dump a little extra guilt on us.
Uranus and Pluto will hit the peak of their square on Monday, May 20th, so this week will probably begin with challenges in front of us. But, as the week goes on, our balance and our diplomacy should return. The Moon will enter passionate Scorpio on Wednesday, May 22nd, and we may see our environments from a new perspective over then next few days.
We will be under the umbrella of our final eclipse this Spring, as Memorial Day Weekend begins on May 24th. Our Full Moon lunar eclipse will be in Sagittarius late Friday night (early Saturday). This one will be visible from North America, but it is a penumbral eclipse (only the fringe of the Earth's shadow will cross the Moon), so it will be difficult to see. View it, or not, we're still going to feel it. Neptune will be at a T-square to the eclipse, so many will really be looking for comfort in their addictions. If you are out driving this weekend, be sure to watch out for the drunk driver. Stupid accidents are also possible. Please, think, think, think before you act. Our judgement is likely to be poor, so postpone any major decisions until after the holiday.
As the new week begins after a long holiday weekend, on Tuesday, May 28th, we should find a return to normalcy. Mercury, Venus, and Jupiter will be lining up on the horizon just after sundown. This could bring tolerance, joy, and possibly even some good news. We may find ourselves making positive changes in our lives as the month ends.
Mercury will be turning retrograde once again in June, but we also will get the first taste of a grand trine in water signs. Our opportunities and our optimism will be soaring. Check back next month to find out more.
Janet (Sparrow) Moon is a professional psychic and astrologer. You can visit her web site for more articles about upcoming events in astrology, and to read her daily astrology general tendencies forecast. (This article can be reprinted freely online, as long as the entire article and this bio are included.) http://www.sparrowmoon.com/