Astrology Forecast for October 2012 - General Tendencies for All Sun Signs
Written by: Janet (Sparrow) Moon
Published on: September 25, 2012
Category: Astrology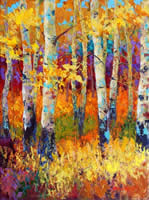 October could bring a return to normalcy. That nasty Uranus-Pluto square that we have been under all Summer will finally lighten up this month, and Saturn and Neptune will be singing in harmony through the first half of October. We may even want to kick back and enjoy the fruits of our labors during this month of harvest. Early this month Jupiter will turn retrograde, and Mars will be fighting with Neptune, which could bring a little bad luck and stupidity. Also as we approach the end of October, Mars will hit a conflict with Jupiter, which could bring a few more problems, but probably only minor ones. All in all, the month of October may bring a few tough days, and a few very fortunate days, but mostly many uneventful days encouraging us to relax and enjoy.
Venus will be joining the Saturn-Neptune melody as this month begins. This could bring career opportunities through Wednesday, October 3rd, but there is a danger that we may not see those opportunities from a practical eye. Jupiter will be at retrograde station on Thursday, October 4th, and this could bring some bad luck and pessimism. But, Mercury will join Saturn's song of praise to Neptune on Friday, October 5th, as Mercury and Saturn enter the sign of Scorpio together. We may realize that we have more (money, love, respect, accomplishments, etc.) than we thought we did. Our energy level may drop for the weekend of October 6th with Mars and Neptune battling. It would be best to keep schedules and commitments light through Monday, October 8th.
Our energy should return rather quickly as the week begins on Monday, October 8th. Opportunities and happiness should abound through Wednesday, October 10th, but some may also notice an underlying tension or restlessness. Job interviews, romantic relationships, and even situations with authority figures should go well during this time. That return to normalcy, I mentioned above, should enter our lives on Thursday, October 11th, and life through the rest of the week will probably only have a few minor ups and downs. We may find our hopes and our ideas looking towards the future through the weekend of October 13th. It would be an excellent weekend to write down our "wish list," with the Libra New Moon early Monday morning.
There will be no "blue Mondays" on Monday, October, 15th. We should awaken energized and optimistic, with a feeling of calm and even happiness. There could be a few personal upsets and our judgement may be off through Tuesday night, so take time to think. If something seems too good to be true, it probably is. The Moon will enter bright and shiny Sagittarius on Wednesday, and the rest of the week will be a time for adventure and maybe even some nobility. The weekend of October 20th could turn out to be very productive with the Moon in hard working Capricorn approaching its balanced 2nd quarter.
The Sun will enter Scorpio on Monday, October 22nd, and spend the rest of the week catching up to Saturn. The Sun will be echoing compliments from Neptune on Monday and Tuesday, October 22nd and 23rd, and this could bring friendship, romance, and new ideals into our lives. The Sun will then spend Wednesday and Thursday, October 24th and 25th crossing in front of Saturn. This may encourage us to think seriously about our lives and our goals. Mercury and Venus will also be holding hands on Thursday giving us an overall feeling of well being. Think twice before spending around the weekend of October 27th with Mars and Jupiter at a stand-off. Mars is energy, and Jupiter is the amplifier. Some of us may go to extremes, also business investments and gambling could show a loss. By all means, practice moderation.
Mercury and Neptune will be causing misunderstandings and possibly even a little stupidity as we approach the Taurus Full Moon on Monday, October 29th. There could be bull-headed attitudes to deal with, so be sure to practice diplomacy. There could also be some possibilities for creative changes in the air, if we just pay attention. People may get impulsive and moody for Halloween, Tuesday, October 31st. Watch out for the pranksters.
Next month is going to be a November to remember. We will have two eclipses and a Mercury retrograde to endure before the month ends. Check back next month to find out more.
Janet (Sparrow) Moon is a professional psychic and astrologer. You can visit her web site for more articles about upcoming events in astrology, and to read her daily astrology general tendencies forecast. (This article can be reprinted freely online, as long as the entire article and this bio are included.) www.sparrowmoon.com