Mercury Retrograde in Cancer - Summer 2013
Written by: Janet (Sparrow) Moon
Published on: June 30, 2013
Category: Astrology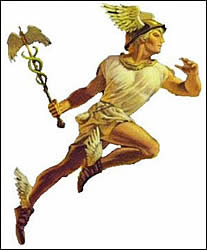 Its Mercury retrograde time again! Mercury will be traveling backwards through Cancer this Summer. Cancer loves family, friends, and home, so we may decide to look-up old friends, or spend our vacation at home this year. In fact, all of Mercury's retrogrades in 2013 are in water signs. Maybe we should nickname 2013, "The Year of the Backstroke."
When Mercury is in retrograde, it means he is passing the Earth on the solar race track. Its similar to passing a car on the freeway. For a period of time, the car appears to be moving backward against the background as it passes us. Basically, Mercury will be closer to the Earth, so it's gravitational pull (and astrological influence) will be stronger.
In general, travel delays, computer problems, internet mishaps, and misunderstandings are common problems under a Mercury retrograde. But, Mercury traveling retrograde in water signs may not be all bad. Water signs are emotional, and Mercury retrograde looks into the past. Every now and then we need to take an emotional look at our past, take stock of where we've been and how far we've come. Old friends and ex-lovers may reappear in our lives when Mercury is in retrograde. It can also be a great time to clean out closets and storage areas. People (and pets), who are old or sick and ready to go, are more likely to pass over during a Mercury retrograde.
This Mercury retrograde will begin on June 26th and end on July 20th. Retrogrades are most difficult when they are at their stations, the days they begin and end, but this time we may not care. Three outer planets, Neptune, Saturn, and Jupiter, will be creating some very positive energy in June and July, and their influence may override any of Mercury's retrograde issues. In fact, when Mercury turns retrograde (retrograde station), the Sun will be at an exact grand trine with Saturn and Neptune. And, when Mercury turns direct (direct station), Mars will be joining Jupiter's energy in the grand trine. Even though we may experience some of the typical Mercury retrograde problems on those days, I don't think we'll care. Or, we may find the hero in our personality and conquer the problems like a warrior.
We should find that most of this Mercury retrograde is an easy time. Mercury will not be at an aspect to any planets, except the Sun and Moon, until the last few days of his retrograde when he squares off with Uranus. Take some time to catch-up with old friends and old memories this Mercury retrograde - maybe even try contacting a passed over loved one. The veil between here and the other side gets thinner during a Mercury retrograde. Also, if you like to dabble in magick, spell work to return old friends and lost lovers will be especially powerful during this retrograde.
There could be a few surprises the last three to five days of Mercury's retrograde (July 15th - 20th), as Mercury squares off with Uranus while turning direct. People could get rather sarcastic, and worries and fears could creep up in the backs of our minds. The possibility of "foot in mouth disease" is also high, so be sure to think before you speak.
Mercury's retrograde will run through Cancer from 23 degrees 6 minutes to 13 degrees 22 minutes. Get out your natal chart and see which house or houses Mercury will be traveling through. This will tell you which areas of your life are more likely to be influenced. Also, check to see if Mercury will be crossing any of your natal inner planets or power points. If so, those days could be especially influential. If you not sure, contact an astrologer. They can clear things up very quickly.
Janet (Sparrow) Moon is a professional psychic and astrologer. You can visit her web site for more articles about upcoming events in astrology, and to read her daily astrology general tendencies forecast. (This article can be reprinted freely online, as long as the entire article and this bio are included.) http://www.sparrowmoon.com/